Personalize Order Confirmation Email
simplyFYI™ - A Customer Engagement Platform for PayPal Merchants
simplyFYI™ is a customer engagement platform in the cloud that makes it easy for PayPal merchants to automatically send branded and customized order confirmation emails every time a payment is received. simplyFYI™ captures and stores customer contact and transaction data and provides tools for merchants to analyze cutomers' buying patterns and re-engage with them intelligently in order to build long term customer loyalty.
simplyFYI™ makes it easy to:

✓ Design awesome branded confirmation emails:

- for PayPal BuyNow, Donate and Cart purchases
- for PayPal Subscription payments
- for PayPal Virtual Terminal payments

✓ Send confirmations automatically on payment via PayPal
✓ Send confirmation emails for any online store
✓ Know your active, inactive and best customers
✓ Send targeted followup emails to customers
✓ Deliver emails reliably into the Inbox
✓ Render emails in mobile and web browsers
✓ Build Customer Contact list in realtime
✓ Capture transaction details in realtime
✓ Track and analyse email opens
✓ Track and analyze who bought what
Send Awesome Payment Confirmation and Thank You Emails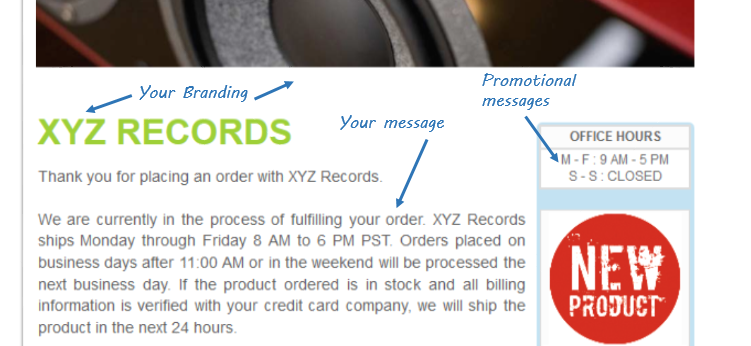 Show your customers or donors that you are thankful for their payment through an awesome payment confirmation email. simplyFYI™ lets you do exactly that and makes you look good.
The Transactional Email Report from Experian shows that sending HTML payment confirmation emails with relevant and engaging content can deepen customer interest and brand engagement following a purchase. The report shows that order confirmation emails enjoy 2 to 5 times higher revenue per email compared to bulk email. Transaction rates are 8 times higher than bulk emails for order confirmations. These factors create the opportunity for cross-selling products and services and to engage customers even more.
simplyFYI™ helps PayPal merchants take advantage of the increased revenue potential presented by confirmation emails. Easily create confirmation emails that highlight your brand, include engaging messages that woo your customer and add promotional messages. And do all this in minutes.
simplyFYI™ works with your Online Store
If you use PayPal for checkout in your online store, you can use simplyFYI™ to send customized order confirmation emails without any coding.

Yes, we know that most online stores are able to send basic confirmation emails. However, customizing them could be technically complicated and costly. Because simplyFYI™ connects directly with PayPal, you can use it with your store without making any code changes to your store.

Take charge of how your online brand is preceived by your customers. Make a great impression with simplyFYI™.
Send Product-Specific Order Confirmation and Information Emails

Sending product-specific custom confirmation emails is a breeze with simplyFYI.
Design custom confirmation email apps (FYIs) for specific products. Then you tell simplyFYI™ which FYI to trigger for which product. You can trigger product-specific emails based on either the product name or product number (SKU). It's easy to add any number of such product-specific rules.
Simple yet Powerful Email Editor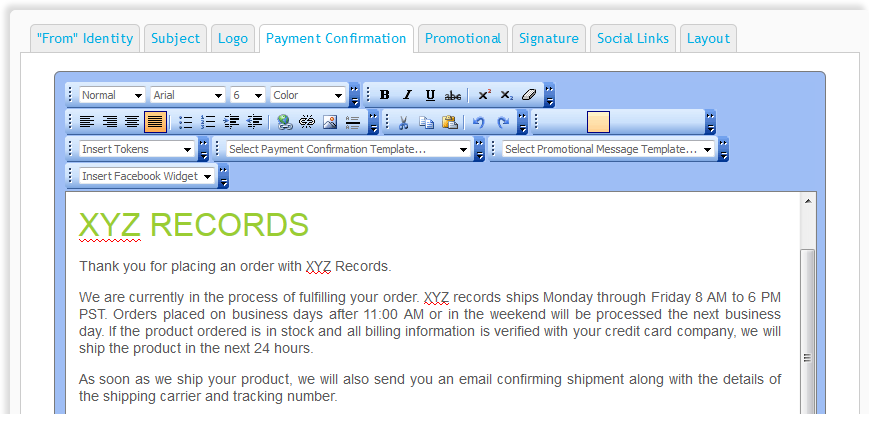 simplyFYI™ has a built-in editor that makes it a snap to create engaging HTML confirmation emails. If you have edited a dicument using MS Word, you know how to use our editor.
- Create a catchy Subject line
- Add your logo
- Use one of our templates for messages
- Insert images and change colors
- Add promotional messages on the side
- Insert a link to add a Facebook comment
- Control the layout: left or right columns
Add Team Members to you simplyFYI™ Account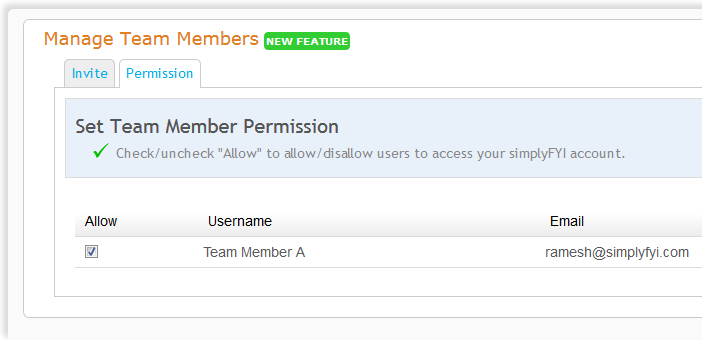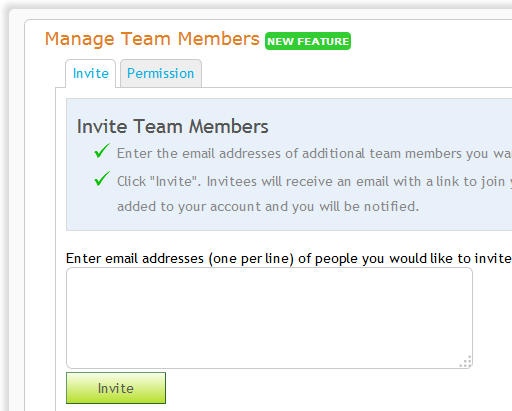 simplyFYI™ lets you add team members to your account as additional users. Your team members can setup their own username and password to join your account. This means that you do not need to share your PayPal account with them to login to simplyFYI™. Planning to take a vacation? Just add a simplyFYI™ team member before you take off so they can fill in for you. How cool is that!
Include Order Details In the Confirmation Email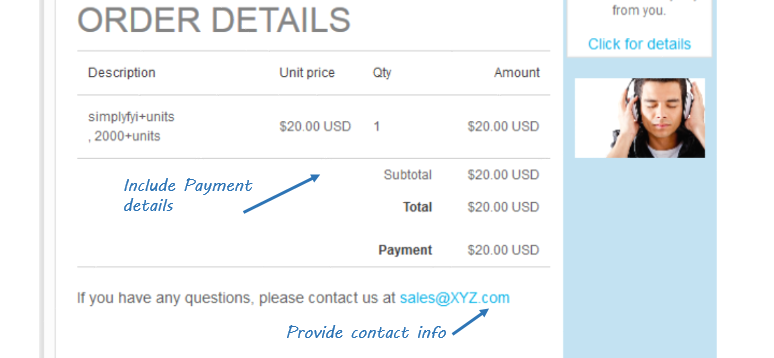 It's easy to include order details anywhere in the confirmation email. Just add a placeholder for the order details using the simplyFYI™ editor. The actual transaction data will be inserted automatically when the confirmation email gets sent out right after a payment is made.
You can add additional information about the product. This could be support and contact information or warranty details. In the case of downloadable digital products, you can easily add a download link.
Let your customers go social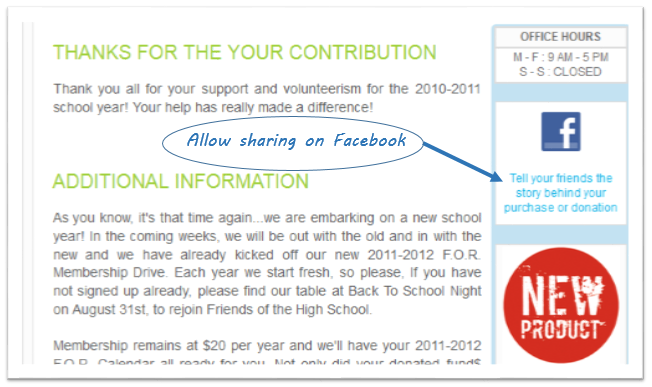 Let your customers or donors share their excitement of the purchase or donation with their friends on Facebook. simplyFYI™ makes that really easy - just drop a little Facebook Comments widget using the editor and simplyFYI™ takes care of the rest.
When your customers click on the Facebook icon in the confirmation email, they will be able to add a comment about their product or donation. On consent, the comment will get posted on their Facebook wall. A link to your business Facebook page or webpage will be included with the post.
Track Email Delivery, Opens and Bounces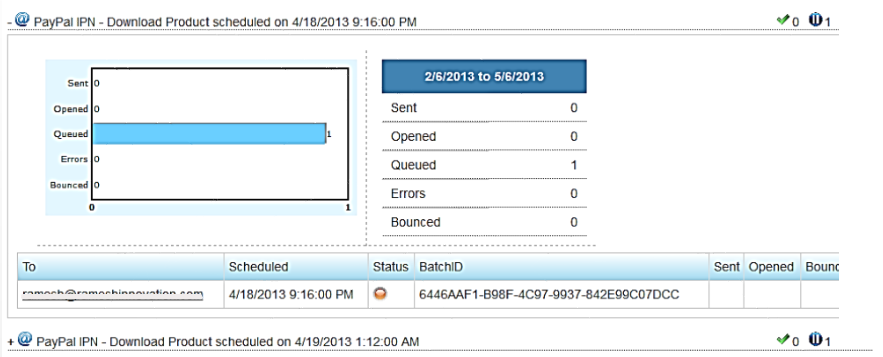 Track the status of your messages and see whether they are queued, sent or are in error.
Track how many of the emails were opened, and if so, when they were opened and the who (emails addresses) opened them.
Track how many of the emails bounced, and if so, when they bounced and who (emails addresses) did not receive the emails.
Automatically Capture PayPal Transaction Details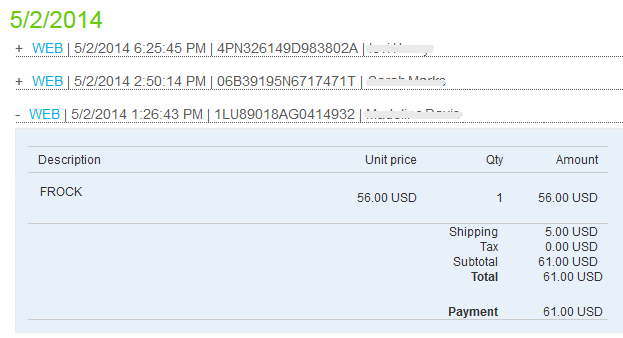 simplyFYI™ automatically captures transaction details as soon as the payment is made. You can view a report of all payment transactions that took place in a given time period (today, last 30 days, last 60 days, etc.) and keep all the information in one place. You can also view the details of transactions with a single click.
Automatically Capture Contact Information and Build Your Customer List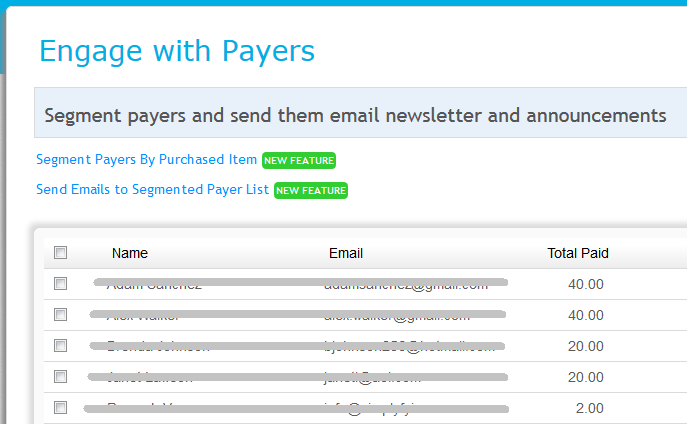 simplyFYI™ automatically captures payer contact information such as name, email and phone number as soon as the payment is made. This is a great way to build your customer contact list and keep all the information in one place.
You can easily segment you payers based on the products they bought (or did not buy), how recently did they buy and top customers by total purchased. Based on the segmentation, you can send targeted promotions, offers and other important personalized emails.
Custom Confirmation Emails for every Occassion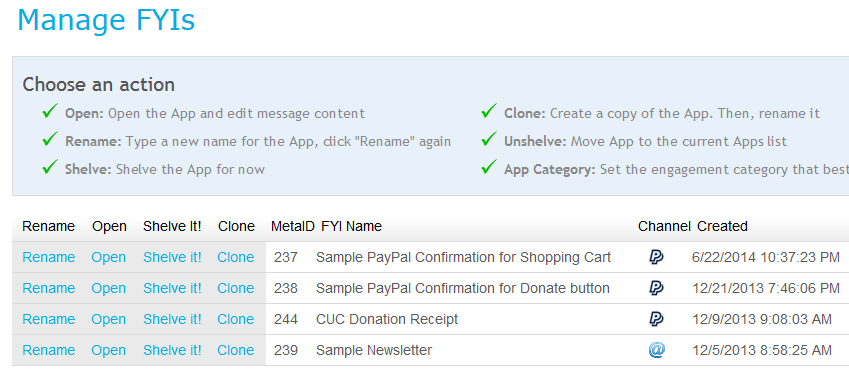 Mother's Day, Father's Day, Christmas...
Send confirmation emails for any occassion!
Build in the mood of an occassion or season into your custom confirmation emails. Is it Christmas season? Throw in an image of Santa into your emails and add a holiday greeting. Add splashes of red and green to the email. Your customers will start to make a special connection with you.